WORLD ON is a totally different television experience for the non-resident keralite society.It is a channel initiated to showcase the warmth of the hometown "KERALA" with all its colours and happiness. The Channel is ready to launch, and to spread its network.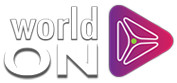 We feel the pulse of the people in the world, giving great emphasis to our home state Kerala, the pulse, the feel, and the reaction of the common man, to issues, Local, National and International bought to you in a fraction of a second, to your door step, with a click of a button, Now on you will not be outdated, uninformed, about the happening in any part of the globe, where there is a malayalee habitation. Since we enjoy a large clout of distributors in Kerala, our network has penetrated into urban and suburban parts of the state.
We have started our channel "WORLD ON" giving you updates on business, clean entertainment programs, with family shows, trades & political; you name it and you will see a kaleidoscopic narration of happenings on your television sets. You can now focus on your home town or city or village and gather all the news and entertainments happening in your area.
We give you a narrative, untarnished vivid display, of the news in the raw form, unadulterated, and we present the news in a non-biased manner in HD Quality, our entertainment programs have a touch of class which will keep you glued to your TV sets.
Our operations have been scheduled to start from Dubai, basically to keep in trend with the latest technology. One of the best in the global scenario and we do not entertain any sort of interference from any source, this is basically to give you the essence of the news in the raw form, so you can form your opinions about the happenings around the world in HD Quality, our entertainment programs has no boundaries, we exhibit programs that are congenial to the public.
We have no favouritism nor sponsors to give you partial information, we have one motive , to speak the truth, and broadcast the truth in its true form, we have no mudslinging, nor buttering both sides of the bread, to get special favours, but we know, that our loyal clientele will stand by us, for truth always wins.